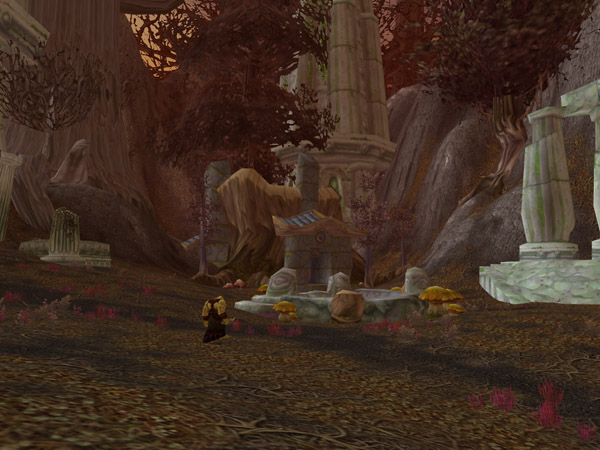 Alright. The commander has requested that I fill out a more formal report for this operation before we start our investigation in full. It's been a while since I've had to write something like this up, so bear with me.
It's been months since our triumphant victory on Draenor and for the most part everyone, myself included, have been enjoying some much needed rest and relaxation. Well, relatively speaking. There's always some new contract or dealing or business to take care of somewhere, but at least it doesn't involve constant bloodshed. But I digress.
Not too long after Draenor, some whispering began in warlock circles. Barely noticeable at first, but as these months have gone by, they've become much louder and more frequent. Rumors that someone (And of course they never say who) has started recruiting Warlocks to gather in Kalimdor. Apparently they're searching for something, and need a lot of magical manpower to do it.
At first I dismissed this as unimportant scuttlebutt. Just another wannabe cult leader who tries to unite the Horde's fel users, gathers a bunch together, disagreements arise, aspiring cult leader is deposed or killed, and things go back to normal. Happens all the time. But after months going by and the rumors only getting louder, I was beginning to think that this one may not go away so easily, and they may very well be up to something bigger than usual.
With our recent foray into Darkshore and seeing the spirits of the dead, including that of an Illidari demon hunter of all things, it became impossible to ignore. Someone, or some group is using the dead in their search of Kalimdor, and there's only one place on the continent where a large number of Fel-users can congregate without people noticing: Jaedenar, the last stronghold of the old Shadow Council of Azeroth, located in scenic Felwood.
My suspicions were confirmed when I tried getting in touch with one of my most knowledgeable contacts: Xalsin, a satyr who's been a Felwood local since before the First War. Not only did he refuse to answer any of my missives or requests, it seems he's disappeared from my warlock circles entirely. SOMETHING is going down in Jaedenar, and with all this attempted cloak and dagger, it's clear that whatever they're doing doesn't have the Horde's best interests at heart.
I've called in a favor form Grazz to lend me some the Warforged Pact's old reliables to go into Jaedenar and check things out.
I was right, Xalsin and his warlock buddies have definitely gone rogue.
A team consisting of myself, Huuza, Invar, Eronya and Zu'beh made our way into Jaedenar. No sooner than arriving at the enclave we began to see dozens of ghosts raised by the warlocks, spirits ripped between this world and the next, floating intangibly with nowhere to go. We wouldn't know why until later.
The five of us fought through the front guards of the conclave, leading up to a group of more elite fel-users and their demon pets performing a ritual to raise another spirit using a corrupted moonwell. After a brief skirmish, we were able to disrupt the ritual and capture their apparent leader, an old goat of an Orc warlock named Strongfist (Because of course an orc with a shriveled up arm would be named that) and through some... persuasiveness from Zu'beh, we got Xalsin's location before I disposed of him.
****
We didn't have much time left. Many more warlocks with Jaedenar had heard our battle, and were mustering their forces to find us when we found Xalsin. He was as affably arrogant as ever, mocking us and even daring to ask the others to join them as enforcers, which was unanimously refused of course.
Still, he wasn't known as a powerful fel-user for nothing. He created a ring of fire around us to delay until the main force of Fel-users would find and surround us. At first he literally danced around us, none of our attacks able to touch him. However eventually Invar and Eronya managed to land critical blows on the bastard, and from there Huuza, Zu'beh and myself followed suit. Still, the satyr gave as good as he got. When he was on his last legs, he unleashed a spell that took out all but Zu'beh and Eronya.
From what I was told after I was knocked out, Zu'beh played his trump card and raised the bones of the dead in the room into an army of ghouls that tore Xalsin limb from limb. But before he was destroyed, Xalsin sent out a wave of black energy that hit all but Eronya, invading us from the inside. I don't feel any different, but that means nothing. I'll study up and perform every counter-curse and ritual I know. Xalsin's too crafty to have gone down like this so easily.
****
Still, this mission was a success. Xalsin let slip the warlock cult's objective: They were looking for the spirit of a Night Elf Warden, though he didn't say what for. He also mentioned their next target: The Shrine of Aessina in Ashenvale. Said they had already corrupted it and were moving there now.
We booked it out of Jaedenar from there back to safety. I don't know what's so important about the ghost of a Warden that would need so many Fel-users, but we'll have to make plans to check out the Shrine. This isn't over yet.